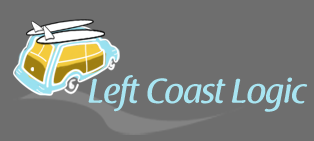 Welcome to Left Coast Logic. James and Michael both come from the Left Coast, where people believe in working hard – very hard. But when surf's up, drop everything because who knows when the next surge will come!  Good thing we keep organized.
Our goal is to help you achieve "productive enlightenment." We believe – very seriously – that it's possible to become more productive and more fulfilled, at the same time.  Because there's more to life then just "getting things done."
From Entertainment to Enterprise
James and Michael have a deep background in designing, creating, and managing software solutions ranging from entertainment to enterprise.  Between us we have held management positions from Disney to Deutsche Bank, and have worked with customers from SAP to Seagate.  We have lived and worked in Europe, Asia and North America and we speak English, German, Japanese and Chinese  (throw in a bit of suisse deutsche and 上海言).
Welcome to our site, and welcome to our way of life. Feel free to contact us, or just chat online when you see the "Chat Now" box.  If we're not on line, you can "Leave a Message" and we'll get right back to you.
✒Questions about our products?  Contact
✒Support issues? Contact
✒Press inquiries and business opportunities? Contact [email protected]