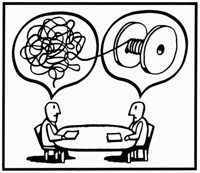 Why Smart?
At Left Coast Logic, everything we make is Smart. No kidding. Here's our logic:  Why build a calendar that shows your schedules, but doesn't schedule your tasks?   Why build a cutesy task list that doesn't help you see what you can accomplish during your day? What's the use of a project manager, that doesn't help you balance more than one project at a time? And who needs another note pad that doesn't let you organize your notes visually?
All of our apps are truly Smart. And they are divided into three categories: SmartDay, Syncs with SmartDay, and other Productivity apps. Check them out. Questions? Click on "Chat now" to ask before you buy.
SmartDay
Integrated organizers for all your devices – connected via our free cloud hub.
SmartDay is a truly integrated family of organizers for your iPhone, iPad, Mac computers, Web, and even Android devices.  It integrates in four ways:
Tasks are automatically integrated into the free time in your calendar
Tasks, Appointments, and Notes can all be connected to each other
SmartDay apps on all your devices synchronize all of your tasks, appointments and notes with each other.
Share projects, delegate tasks, collaborate via Conversations – now in free beta.
Plan, Schedule, Prioritize, Do, Note, List, Share, Collaborate – all from one view. SmartDay.
Syncs with SmartDay
Organizers that sync with SmartDay.  Do your organizing on SmartDay, then sync to these helpful apps on iPhone and iPad:
AM/PM
See both sides of your day.
A quick, easy  app that shows everything you need – quickly and simply. Available for iPhone.
SmartPad
The original iPad organizer.
Other Productivity Apps
Smart apps that do Smart things, but which do not sync with the SmartDay family.
SmartPlans
Don't just multi-task. Multi-project. Available for iPhone and iPad.
SmartNotes
Share notes, to-do's, photos, and voice between your devices and computers.
Available for iPhone & iPad, and connected via SmartNotes for Web.
SmartTime
The first integrated calendar designed specifically for iPhone.
Now has over 1 million downloads.
ScrapBook
Tell  Your Story.
Create flip books with photos, voice attachments, interactive maps, detailed notes and even to do's with alerts.  Share them on Facebook. Available for iPad.