Now, a Smart way to Organize on your Android phones & tablets.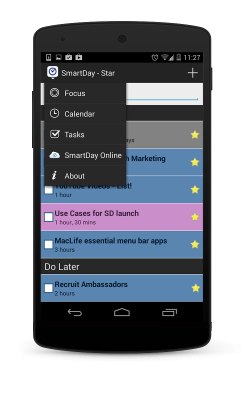 SmartDay is the long awaited Android companion to SmartDay for Mac, Web, and iOS users. It connects – and synchronizes – directly with your free SmartDay Online account which you can use from any computer browser, with onward connections to SmartDay for Mac OSX, iPad and iPhone.
Adaptive Logic
SmartDay is an integrated organizer that uses adaptive logic to place your tasks directly into the free time between your appointments, so you can always see exactly how much you can accomplish each day.
Connected to SmartDay Online
SmartDay for Android connects to SmartDay Online.  From your Android phone or tablet you can create, view, and edit Events and Tasks. You can also view connected Notes and Checklists that you created on SmartDay Online or other SmartDay apps.
Inherited Settings, Independent Actions
SmartDay for Android inherits your global settings from SmartDay Online – including calendar colors, working hours, task integration, and other setups. Then, you can fine-tune things by applying smart filters directly from SmartDay on your Android device to organize your day and your life, on the run.
Three Handy Views
"Focus View" shows all of today's appointments and scheduled tasks in a convenient agenda-style list.
"Calendar View" shows your appointments in a resizable Day calendar with a drop-down Month navigator. Integrate your tasks directly into the Calendar (select this setting from your free SmartDay Online account), or just use the Calendar to see your appointments.
"Tasks View" shows all of your tasks from your different projects, with the same 'Smart' filters as your other SmartDay apps:  GTDo, Star, and Due.  You can easily prioritize tasks by dragging them up and down the list. The 'Done' filter shows everything you've accomplished, by date.
Synchronizing
– Synchronize both Tasks and Events with your free SmartDay Online account.
– Import external calendars to SmartDay Online, and view them on SmartDay for Android
– If you have SmartDay for Mac, you can sync with your Mac's Calendar app and other external calendars such as Google.
– SmartDay for Android does not connect directly to your Google Calendar.  It syncs both calendar events and tasks with SmartDay Online.
 Learn More: View the User Guide