Organize Your Life.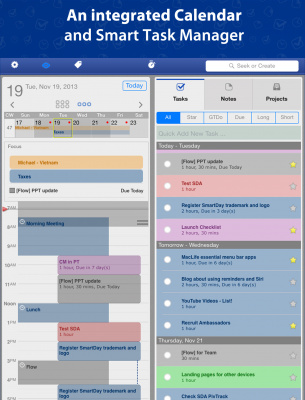 SmartDay automatically schedules pending tasks into the free time in your calendar and updates them adaptively as situations change.  By combining tasks and events into a single time-line view, it's easy to see what you can accomplish each day, taking the stress out of 'getting things done.'
SmartDay is An integrated calendar, journal, task manager, and project planner.  And now, SmartDay is available for iPhone, iPad, and Mac OS X (sold separately). Special rebate offer if you purchase both.
Key Features
Sync your events, tasks, notes, check-lists, and projects across the devices you use
Create and edit calendar events, diary style notes, and tasks – then link them to each other
SmartTime™ logic schedules your tasks into the free time in your calendar
Drag the 'day shade' in the calendar to adjust your working hours; tasks flow in or out
View Shared projects and assigned tasks from SmartDay Online (free beta)
Sort and manage tasks using 'Smart' filters such as GTDo
Time your tasks, calls, and meetings for later auditing and billing
Embed check-lists directly into your notes
Import your tasks from Toodledo
Navigate and organize using the drop-down Mini Month (and Week) calendar
Shaded 'Heat Map' on the Mini Month shows busy days at a glance
Drag tasks into the Mini Month to assign deadlines
Drag tasks onto the Calendar timeline to manually schedule them
Track the progress of your Projects by % complete
Quick search to find anything
Use Tags for advanced filtering
'Transparent' feature for shared calendars
Snooze feature for alerts
Time Zone support for frequent travelers
'Must Do' feature places a task at top of your list and it will persist until completed
'Hide future tasks' removes tasks from the active list until they are ready to start
Landscape Views for iPhone/iPad
iPad: 'Planner Pro' offers unique Month and Week view with drag/drop planning and external keyboard support
iPhone: View and print your Weekly agenda with integrated tasks and appointments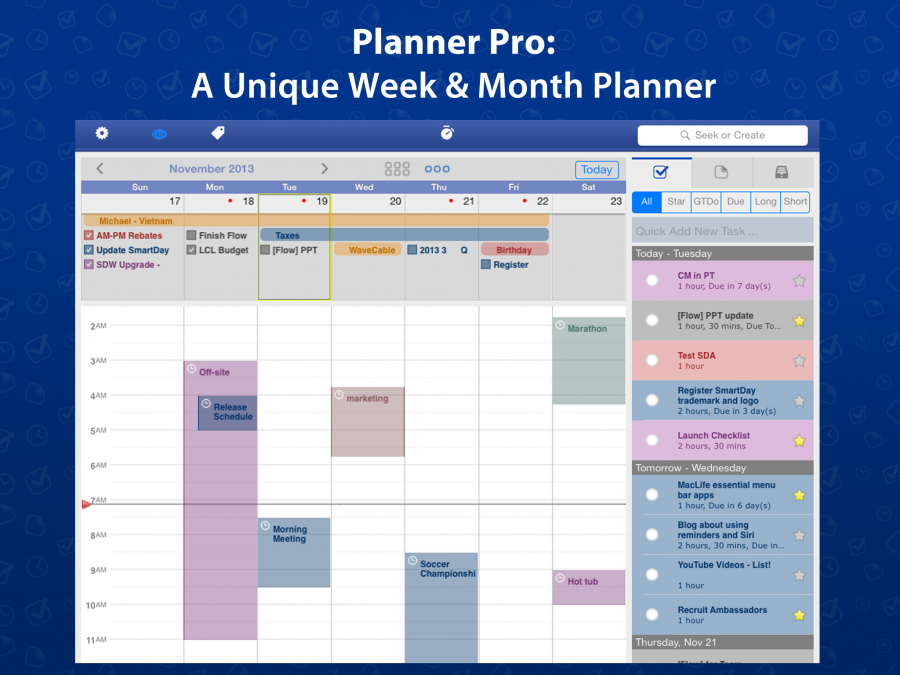 Designed for iOS 8 and 9
Use Air Drop to share projects, tasks, notes, and meetings with other SmartDay users
Create and save locations for alerts and for filtering your tasks
Set alerts based on driving time to your meetings
Set alerts for tasks triggered by arriving or leaving locations
Some things you can do with SmartDay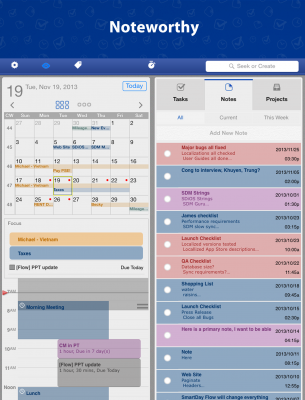 Take notes and associate them with specific days by dropping them into the calendar
Take a note during a meeting, then link it to follow-up tasks and meetings
Create shopping lists and packing lists that can be refreshed each time you use them
Create tasks without even using the keyboard, using quick 'action' shortcuts
Access everything from any computer browser, even when you're traveling
Keep track of billing hours for different customers
Two for the price of one
SmartDay is actually two different apps – one for iPhone/iPod, one for iPad.  Buy one, and use it on up to five devices. Each one is specifically designed for the the displays of iPhone 5,6, 6+ and iPad Mini, Retina, and Pro.
So Easy, No Keyboard Required
Sure, you can use your keyboard, but why? We offer these alternatives:
Choose a Contact from your Address Book.  Event or Task created, automatically.
Our one-tap "actions" create your events for you. Meet, Discuss, Go. Now.
Dictate your notes. Connect them to any item (Requires iPhone 4s and above).
Drag and drop to organize.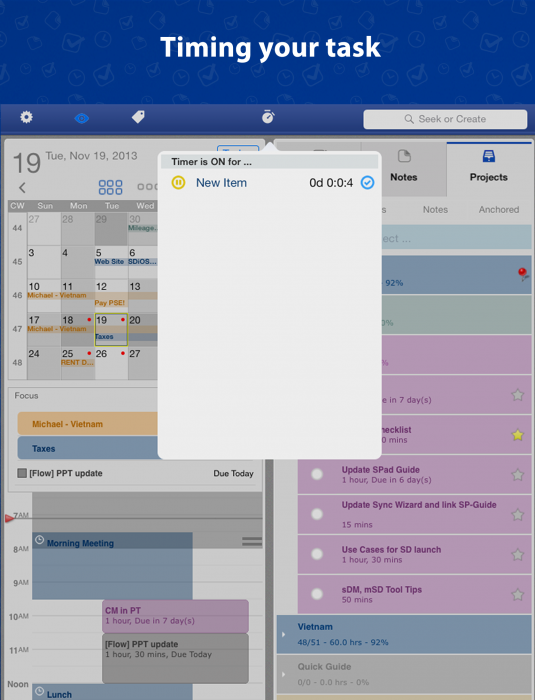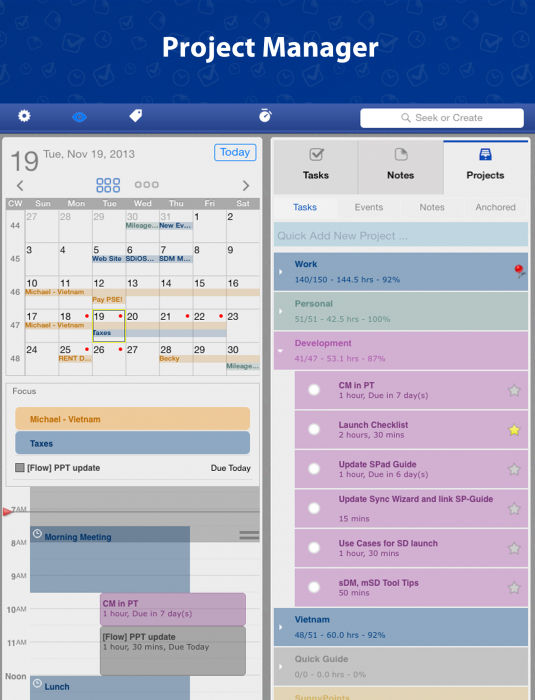 Now, That's Smart.
Learn more about this amazing new productivity tool: Check out our Quick Guides with videos:
SmartDay for iPhone Quick Guide
SmartDay for iPad Quick Guide.
---